If you love adventures, you'll surely fall in love with mountain biking. Just like hiking up the rugged slope, mountain biking empowers you to discover the most astounding, untouched, obscured natural treasure troves, with the added benefit that you don't need to walk all the way down while returning.
The thrill of riding down a gravel-laden steep trail for the first time, drenched in sweat, applying your brakes way too harder, and the wheels of your bicycle suddenly locking up or feeling the numbness on your hands after continuously gripping on the handlebars are all worth the unique experience and the adrenaline rush you gain get during mountain biking. 
The best part? You'll get better with more journeys and adventures.
The first step for riding an all mountain bike and traveling through the treacherous terrain can be challenging. However, we've curated a few tips that can make your riding experience much easier and smooth.
Buy your mountain bicycles from the best bicycles online shop for the ultimate riding experience.
Understand The Types Of Mountain Bikes
The most crucial thing that you need to consider is that the bike fulfils your requirements and matches your riding style and terrain. You'll find a plethora of bike models for every type of adventure.
Following are the most common types of mountain bikes: 
Among these, the most suitable one for beginners is the all mountain bike. However, you might find a different model more suitable depending on your riding style, adventure type, body mechanics and other unique requirements. 
Prepare a list of the locations and types of terrains where you would like to ride, what's vital to you (speed, comfort, safety, etc.), and what makes you excited the most.
To find the correct bike for your needs, we strongly recommend consulting a bicycle specialist from a renowned and the best bicycle online shop. 
Not only will they offer you guidance with which model is a perfect fit for you, they can also explain to you about the bike material, frame size, seat position, and much more.
Know The Right Equipment For Mountain Biking
For enjoying mountain biking seamlessly with utmost safety, you need to know the right equipment and tools, along with having the correct bicycle model. 
Biking Helmet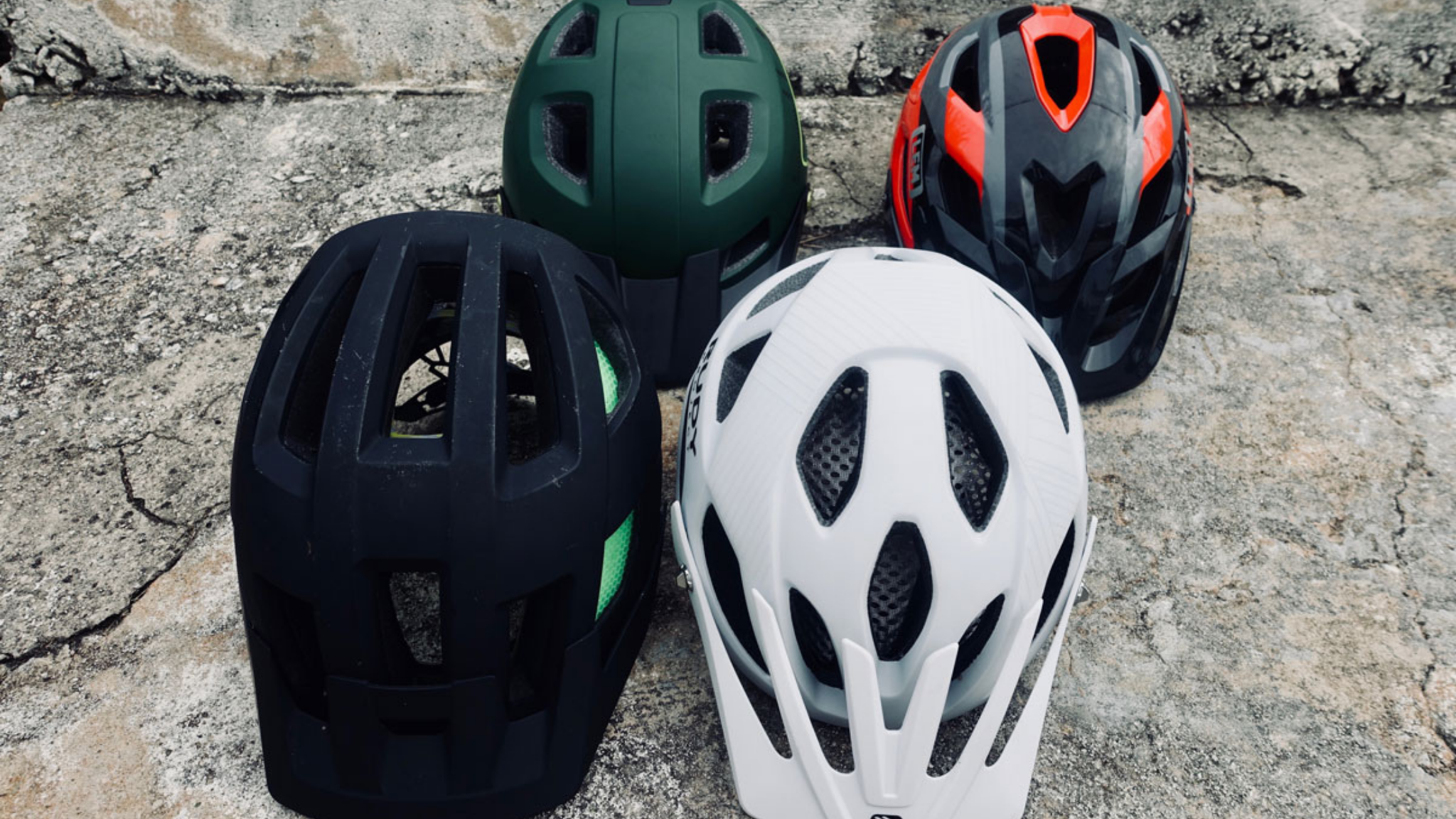 The most vital safety equipment! No matter what the circumstance is, never start your mountain biking expedition without your helmets.
Your head is the most critical body part and should be protected at any cost. Ensure that your helmet fits you accurately- it shouldn't squeeze your skull or slide across your head.
You can consult with experts at the best bicycles online shop for purchasing the accurately sized helmet.
Glasses Or Eye Protection Gear
If you feel just protecting your head is enough, you're mistaken. Protecting your eyes from dirt and dust is equally important. You don't want your adventure to end with itchy, watery and uncomfortable eyes, thus ruining your entire experience. 
Eye protection gear prevents any foreign element from getting inside your eyes and also protects them from harmful UV radiation. 
You can also opt for interchangeable lenses. Dark ot tinted lenses protect your eyes from the harsh sun rays while riding uphill. The clear light lenses offer both protection and crystal clear vision while riding downhill through the forest or dense canopies.
Clothing 
You can either opt for regular sportswear or explicitly crafted mountain biking clothes. 
Mountain biking clothes include biking shorts perfectly suitable for spring and summer with inner padded shorts for comfortable seating, a jersey, and a thin rain jacket.
You have specialised cycling clothing to add warmth for winters, such as a fleece pullover and long cycling pants.
Footwear
To determine the type of footwear, firstly, you need to finalise what type of pedal you want to ride, clipless or flat pedals.
Both systems have certain pros and cons. Try out both types for all-mountain bike pedals to understand what suits you the best.
You'll need clipless shoes to complement your clipless pedals. For flat pedals clipless pedals, you need the right clipless shoes and with flat pedals, it's best to have mountain bike shoes (such as Fiveten) that give you enough grip on the pedals.
Cycling Gloves
Cycling gloves serve two purposes-offers better grips, and protects your palms from getting strained.
Backpack
A compact 20L backpack is adequate for storing snacks, water (or any other fluid), extra clothing, first aid kits, your regular medications etc. Ensure the backpack is well-fitted with chest and hip adjustment straps to avoid sliding around when riding on your all mountain bike.
Body Protection Gears 
Knees and elbows are most prone to injuries when you fall off while riding. Therefore, to resin on the safe side, protect your knees and elbows with protector caps. In fact, quality protection gears are affordable.
If you love to indulge in more extreme activities such as riding downhill at a fast speed or doing jumps, you need to consider a back protector as well.
First Aid Essentials 
When you're a beginner, a fall can happen frequently. Always carry your first aid essentials with you when embarking on a mountain biking journey.
Repair Kit
Let's face the fact. Mountain riding involves harsh terrains. Although all mountain bike has been crafted with tough rubber elements, stumbling upon a sharp rock or object can cause
A repair kit is vital for fixing any minor technical problems while riding your back and to prevent the agony of walking your bike home. Your repair toolkit should include:
One or two chain links with a new rivet pin.
Practice Proper Riding Techniques 
Maintain correct body positioning
Keep your eyes straight ahead to avoid falls
Get out of the saddle as much as possible and use your legs
Understand the proper braking force and use your brakes efficiently
Shift into the correct gear throughout your journey
Ride and discover new terrains to make your mountain biking exciting.